Defining Her Future is Cal Poly's largest student-run event, held by the Cal Poly Women in Business Association. Putting on this conference has been one of the highlights of my Cal Poly experience. I was a part of the marketing strategy team last year, and this year I served as the Head of Marketing for the event. I 
led a team of 11 women to develop an event identity, create event collateral, build a digital strategy, and manage content production.
Creating a Brand Identity
The theme our team came up with for this year's DHF was Purpose. We wanted the event to showcase how each individual could find meaning and fulfillment in their professional and personal lives. The creative design team took inspiration from this theme, the Women in Business Association's values of building inclusive and confident leaders, and retro visuals. Walk through our mood board and brand guidelines below.
Event Collateral
One of my favorite parts of this event is applying the branding to our promotional materials, SWAG items, and signage. Having set brand guidelines allowed us to give the event a consistent feel and voice from stickers to our event website. Click through the slides below to see some of these designs in action.
Digital Strategy
DHF 2022 was a unique challenge because it was our first time hosting it in person in two years. We needed to introduce the Women in Business Association and Defining Her Future to a completely unfamiliar audience. To combat this gap, we created a promo video with a previous year's conference footage to share to goals and concept of the event. We also hosted Q&A sessions through Instagram stories to answer any questions about the event. In addition to our in-person classroom presentations and tabling efforts, we built out a 2-month social media content calendar. Our promotions included speaker session announcements, community spotlight posts, and giveaways that encouraged people to follow our account and sign up for the event.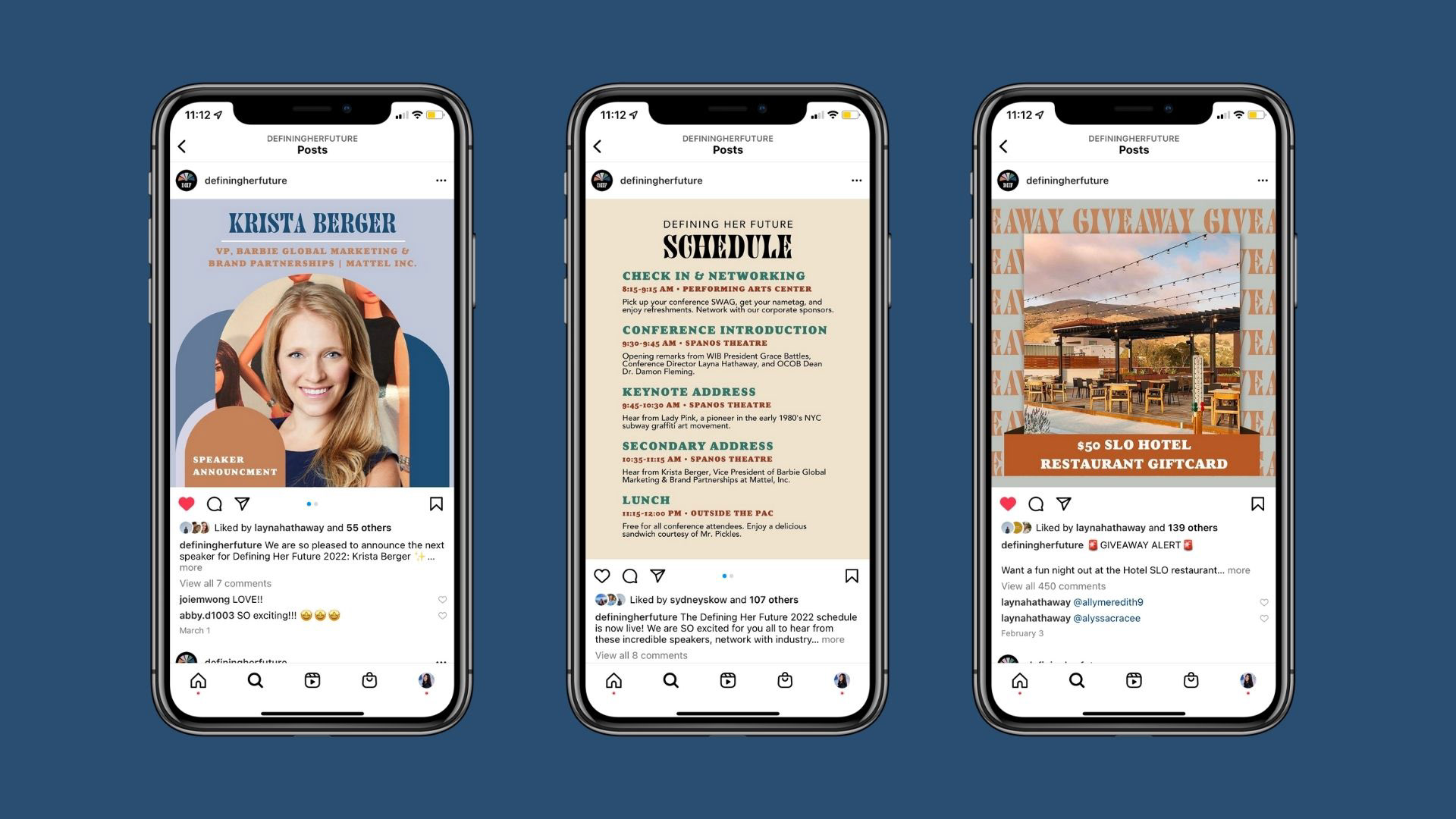 Content Pipeline
I used Airtable to supercharge our marketing request process. In past years, it has been a tedious process to see who was assigned which projects, where finished assets were stored, and keep track of deadlines. This system allowed designs from the marketing team to be requested using a form, designers to receive notifications of assigned work through a custom Slackbot, and all relevant information/assets to be stored in a centralized location. 
DHF Takeaways
Seeing everything come together on the day of DHF was such a rewarding experience. We exceeded our target goal and had over 600 attendees register for the event. I'm incredibly grateful for the opportunity to lead this event with Conference Director Layna Hathaway and Head of Logistics Kennedy Higgs. A huge thank you to the Marketing team leads Ashley Raizes and Jade Cabebe for all their support. This event would not be possible without our talented and dedicated DHF Marketing team: Alexa Griffin, Anna Haller, Megan Volpe, Rain Mazumder, Ananya Yerneni, Smera Doshi, Eshika Jain, Heather Phan, and Lauren Solomon.